We Want Your British Food Recipes!
28 September 2016
Crystal Peaks

British Food Fortnight has had amazing support from customers and traders alike in The Market Place at Crystal Peaks with cooking demonstrations, food tastings and recipes created for market shoppers using produce from the market by Chef Luke Rhodes. We've also held competitions and giveaways as an extra little treat for those visiting the market.
We obviously love British food here at The Market Place in Crystal peaks, so now we want to see how much you love British food and how you use British produce!
We want your recipes! Food from your childhood, that soup your mum used to make on those cold winter evenings, your twist on the classic Bangers & Mash, or something inventive like Chef Luke Rhodes' Panna Cotta Infused with Rhubarb & Custard *click link for recipe*. Whatever it is, we want to hear from you!
Our favourite recipe will win a little treat curtesy of The Market Place at Crystal Peaks.
To enter, please e-mail roman.dennis@sheffield.gov.uk with your recipes. Please include images as the winning recipes will be featured on SheffieldMarkets.com and via The Market Place social media.
GOOD LUCK!
Latest Blog Post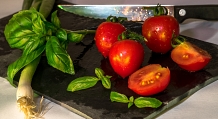 ---
---